If you have created training that you believe is of value to tutors, then we want to accredit it.
The accreditation process is simple. It is designed to provide quality assurance and increase your reach. We evaluate your course against the QT Transformational Training Values: Be Curious, Be Generous, Be Reflective.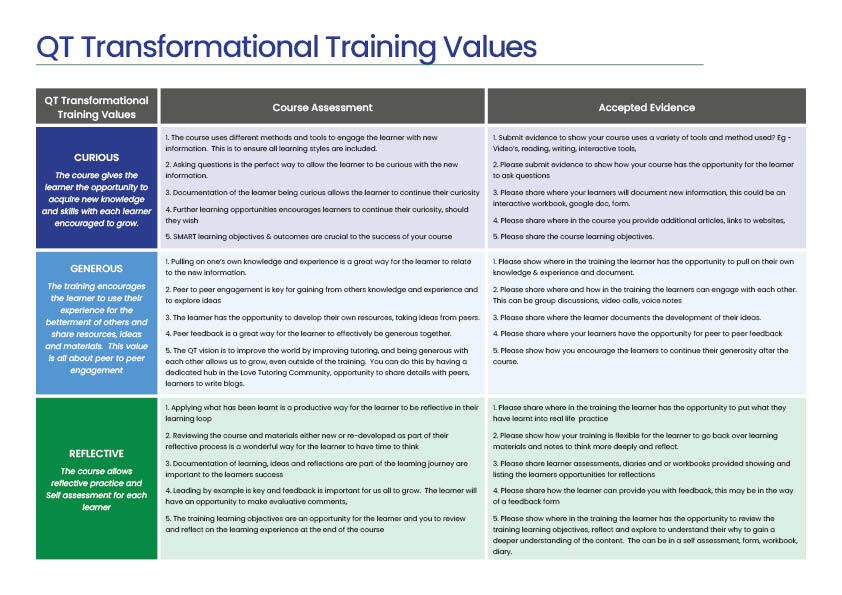 Benefits of Accrediting your course through Qualified Tutor:
Listing on the Qualified Tutor Website

Unique Digital Credential for your course, verified on the blockchain

External Quality Assurance 

Option to deliver your course within our learning management system

No commission taken for courses we refer to you
Cost – £89 per course plus £3 for each digital credential issued
Step 1
Entry level confirmed – Course Creator must be a QT member
Step 2
Course evidence breakdown submitted as requested against the Transformational Tutoring Values framework. Link to submit evidence for each section. 
Step 3
The Qualified Tutor team will review and provide feedback within 5 working days.
If required, QT will estimate the time required to make your course meet the QT Transformational Training Values. Don't worry, we will work with you to apply changes to meet the QT Transformational Training Values
Step 4
QT will issue a unique QT Digital Credential and promote your course on the website.
There is also the option to deliver your course within the QT systems.
Step 5
The QT website will re-direct buyers to your website.
There is an option to discuss your course being delivered on the QT Community and purchased through the QT website. Each new registered learner will be added to your custom course tracker with a dedicated dashboard for you to access and monitor.
Please note all of your learners will become a member of the QT Community.
Step 6
When learners complete the course the QT Team will need to be informed and your unique custom QT Digital Credential will be issued to them.
Let us know if you have any questions courses@qualifiedtutor.org
Submit Your Course