Leaders in tutoring welcomed the International Tutoring Framework from Qualified Tutor this week in London and online at the Love Tutoring Leadership Festival. 'I think this is absolutely wonderful and will quickly be recognised by people around the world.' Kirstin Coughtrie, Founder Hybrid Schools, Gaia Learning.
We live in 'interesting times' in education. The school curriculum is no longer fit for purpose, failing to equip today's students with the skills and knowledge they will need for a world that is volatile, uncertain, complex and ambiguous (VUCA). The 'one-size-fits-none' industrialised education system is widely-recognised as defunct, with fewer teachers asked to deliver outcomes against endlessly-spiralling expectations. Teachers and students are voting with their feet. All-time lows in teacher retention and epic highs in school refusal should tell us everything we need to know about how it feels to spend time in a classroom right now.
Meanwhile, tutoring seems to be at its zenith. Never before have tutors been as in-demand. Never before has tutoring been so accessible. Local authorities are turning to tutoring businesses to provide an alternative provision for our most disengaged students. The National Tutoring Programme (NTP) has jump-started the widespread deployment of tutors in schools. Improved internet access and a boom in high-quality edtech resources have made online tutoring agile and user-friendly. Our post-Covid world is well-adapted to delivering individualised learning to all sorts of students in all sorts of modalities.
And yet many tutors still feel unsure of their place in the world of mainstream education. 
Currently, it is possible to set yourself up as a tutor in minutes. Registering with some online platforms is as easy as ordering takeout. The entry points to tutoring are so poorly-guarded that parents and schools are often unsure what they can realistically expect. This creates patchy quality in the pedagogical and organisational elements of the business. But it goes far deeper than that. The lack of regulation creates a lack of trust in the tutoring profession as a whole which can undermine the learning process itself.
At the Love Tutoring Leadership Festival, a programme of facilitated discussions held in person and online on the topic of 'Defining Excellence in Tutoring' hosted by Qualified Tutor, there was widespread approval for the launch of the International Tutoring Framework. This inclusive model of professionalism in tutoring was welcomed as the gold standard for businesses of all sizes and niches. 
'I'm thrilled by this. It looks fantastic. I would like to see accreditation in place, and hopefully this is it.'

Johnny Manning, CEO of Manning's Tutors (successully delivering the NTP since its launch)
There was particular interest in the emphasis on career pathways between tutoring and teaching.
Sarah Toft from White Rose Maths said 'The thing that really resonated with me, and that's probably because I've had a lot of conversations with tutors about this in the last couple of months, is access to career pathways.' Whilst Andrea Gadsbey, Founder of Hope Tuition Clinic and Teaching and Learning Coach at the Watergrove Trust said 'I think a lot of this will speak to schools… it adds a flexibility in teaching that hasn't existed. I think it's got legs.'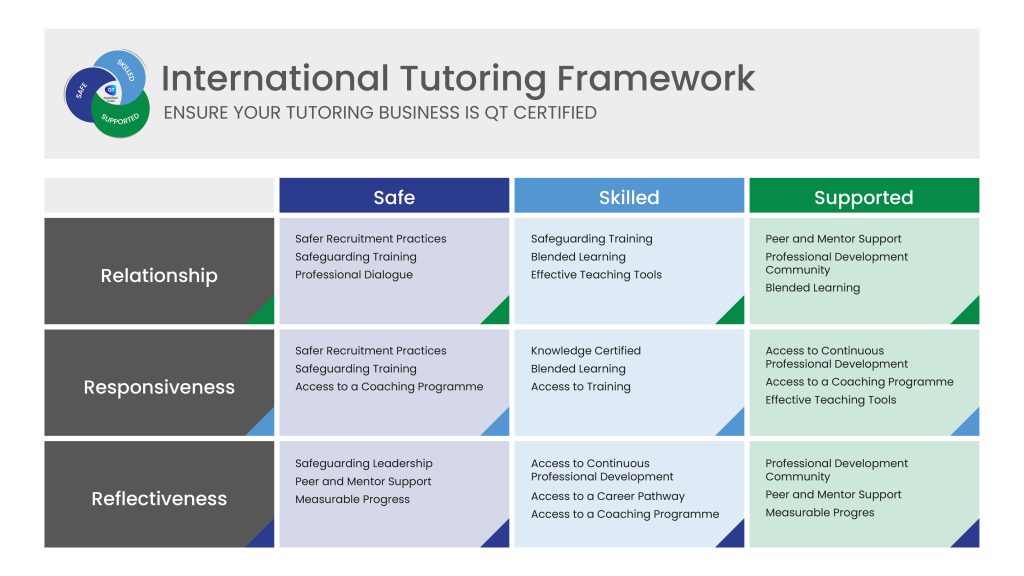 Julia Silver, founder of Qualified Tutor said 'It has taken time and care to create a system that tutoring can opt-in to. The ITF is based on two Qualified Tutor principles: that Responsible Tutors are Safe, Skilled and Supported, and that the 3 Keys of Effective Tutoring are Relationship, Responsiveness and Reflectiveness.
Now that we have found the right blend of 'why' and 'what', we're ready to talk about 'how'. How can we enable tutor businesses internationally to establish a more consistent culture of excellence? And how can we enable them to evidence that excellence to their clients?
This is where QT Certification comes in.
Through a supportive certification programme, tutoring companies can become QT Certified, earning a digital credential to show parents and schools their commitment to high-quality tutoring. This process combines the best in evidence-based pedagogy, coaching and organisational theory with robust edtech solutions to ensure a smooth user experience, modelling excellence throughout. We are very proud of the ITF, and the difference it will make to tutors, parents and students worldwide.' 
I love it. I think it's a great tool to have. Anyone would be proud to be able to display a quality mark such as that.

Sarah Toft
'I love the global scope of this. For an international mark like this to come out of the UK and be recognised globally is amazing.'

Kirstin Coughtrie, Founder of Hybrid Schools, Gaia Learning
What do you think? Will you be joining the movement?
Register to become QT Certified here: https://qualifiedtutor.org/international-tutoring-framework-qt-certification/