QT Accredited Courses
Quality Mark | Marketing | Digital Credentials | No commissions
Qualified Tutor is the quality mark in tutoring worldwide. Become a QT Partner member and you can have your course accredited by QT and showcased on the Qualified Tutor Website.
We evaluate your course against the QT Transformational Training Values: Be Curious, Be Generous, Be Reflective.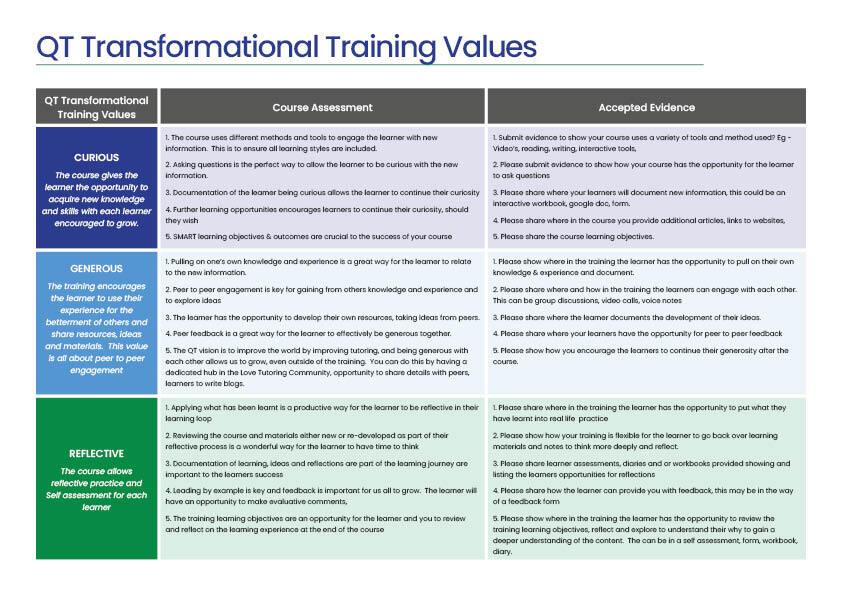 Listing on the Qualified Tutor Website
When your course is accredited by Qualified Tutor your course will be listed on our website & showcased to our global audience of tutors.
Unique Digital Credential
When your course is approved, you will have a unique digital credential for your course, verified on the blockchain which each learner will obtain upon completion.
External Quality Assurance
Your participants will be assured that your course is accredited, ensuring additional trust. 
Course Delivery
You will also have the option to deliver your course within our learning management system.
Get Started
How to Accredit Your Course
Step 1
Entry level confirmed
To accredit your course, you must already be a QT Partner. We will confirm you are, or invite you to become a member first.
Step 2
Submit your course
Course evidence breakdown submitted as requested against the Transformational Tutoring Values framework.
Link to submit evidence for each section.
Step 3
Internal review
The Qualified Tutor team will review and provide feedback within 5 working days.
If required, QT will estimate the time required to make your course meet the QT Transformational Training Values. Don't worry, we will work with you to apply changes to meet the QT Transformational Training Values.
Step 4
Digital credential created
QT will issue a unique QT Digital Credential and promote your course on the website.
There is also the option to deliver your course within the QT systems.
Step 5
Start selling your course
The QT website will re-direct buyers to your website.
There is an option to discuss your course being purchased through the QT website (and also through others that will lead them to QT). Each new registered learner will be added to your custom course tracker with a dedicated dashboard for you to access and monitor.
Please note all of your learners will become a member of the Free Love Tutoring Community and gain access to a Safe, Skilled and Supported Community.
Step 6
Learners complete & receive their credentials
When learners complete the course the QT team will need to be informed and your unique custom QT Digital Credential will be issued to them. If they are using our dedicated system, we will be able to do this without your input.
TESTIMONIALS
What Our Partners Say
For the past two years, QT have provided training for all of the tutors engaged by Manning's. Throughout this time, QT have consistently impressed with their unbounded dedication to tutor development – it would be very easy for a training company to simply 'process' tutors through their system and send their invoice… this is certainly not the case from Julia and their team. Each tutor is treated as an individual to be nurtured and grown in the profession of tutoring. They are welcomed into a community, and helped to understand the importance of the role they are undertaking, and the professionalism with which they must do so.
Johnny Mannings, CEO Manning's Tutors
Julia is a visionary in the industry and has lit up a passion for tutoring that is getting more and more people talking every day. Her simple message "Tutoring is not a plan B" is being heard far and wide thanks to an army of loyal tutors that Qualified Tutor has built up through years of quality and care. The LOVE tutoring festival is the most exciting innovation in our industry for years and has already established as a must-attend event of the professional tutor's calendar.
Julia is a force for good in the industry and Qualified Tutor is one of the foundations upon which our industry will professionalise.
Richard Evans, CEO The Profs